Bandit Forts can be found in cities. There are 3 types of increasing difficulty.
Be sure to be prepared when attacking : have a good attack to have a chance to win, some defense to mitigate damages, and items to stitch up wounds. A good idea is to save before attacking and to have a clear vision of the current winning ratio, as well as expected consequences.
Notice camps are not affected by radiations : it is possible to rest there if your radiation stat is too high. It is possible to build a simple hut and a fire camp, but more advanced buildings like dugouts, greenhouses, ... are not allowed.
Attack : Very low, Low, Medium, High
Defense : Very low, Low, Medium, High
10 corpses will remain after winning the fight. Corpses contain : standard crossbows, handmade pistols, crossbow bolts, lead bullets, respirators, handmade clothes, matches, knifes, cigarettes, canned beef, rusks, improved crossbows, heavy crossbows, lighters, rags. Giant eagles may try to take away corpses.
Searching after defeated will reveal :
Gasoline
Pickled tomatos, pickles, cabbage
Clean water
Rusks
Buckwheat grains
Rice
Wooden crate
Caps x20-30
Human corpse 10x
Paper
Furniture
Broken cars, motorcycles
Canned beef, pork
Canned porridge
Rusted saucepan
Saucepan
Can
Corpses contain : canned pork, porridge, highway clothes, matches, heavy crossbows, standard crossbows, handmade double-barreled shotgun, rags, dried fish, handmade cartages, iron bolts, crossbow bolts, rusted needle, cloth, alarm clock, handmade pistol, vodka, handmade clothes, leather clothes, respirator, gas mask.
You get 40-50 caps when defeating these.
These bandit camps have 4 parts to be searched :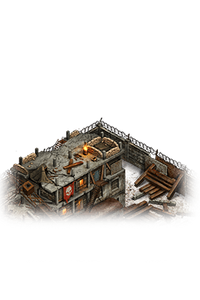 Main part (top):

Vodka
Cigarettes
Canned beef, pork, porridge
Human corpse 20x
Rags
Furniture
Wine
Cloth

Canteen (left):

Pasta
Rusted saucepan
Corn grains
Dried fish
Salt
Sugar
Rusks
Vodka
Wine
Dirty water
Furniture
Human corpse x10
Coffee
Honey
Flour
Rice
Yeast

Supplies (bottom):

Firewood
Human corpse x10
Cement x2
Scrap
Colloidal sulfur x1-2
Potassium nitrate x2
Nails
Crowbar

Garage (right):

Broken car battery
Gasoline
Auto, motorcycle spare parts
Spark plug
Human corpse x10
Broken cars, motorcycles
Rusted tools
Insulating tape
Machine oil
Wire
Steel cables
Tires
Electrical cables
Welder (broken)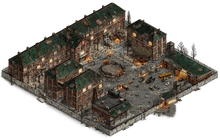 There are 9 parts in these forts. They are the rarest, and have the best loot.
The corpses contain : RPGs, AK-74s, AK, rifle, revolver, makarov ammo, leather, highway, handmade clothes, matches, lighters, broken mosins, broken SVDs, broken PKMs, broken RPKs, respirators, gas masks, dried fish, canned beef, pork, porridge, dried meat, heavy, standard crossbows, alarm clocks, handmade double-barreled shotguns, vodka, cloth, rags, crossbow bolts, iron bolts, lead bullets, handmade cartages, rusted needle...
In 5 of the parts, searching action will reveal :
Human corpse x10 (in the main part x20)
Vodka
Cloth
Cigarettes
Wine
Rags
Furniture
Canned beef, pork, porridge
And in the other 4 the loot is diffrent-canteen, garages, infirmary and the forge.
Canteen

Salt
Sugar
Flour
Buckwheat, corn grains
Rice
Pasta
Furniture
Human corps x10
Dirty water
Yeast
Rusks

Infirmary

Furniture
Human corpse x10
Sterile bandage
Hemostatic sponge
Rags
Kazotein
Alcohol
Lidiacide-34
Metokoin
Sulfatanide
Chlorcystamine
Tratodonid
Activated charcoal
Prokozol
Bryocarm
Tidociclyne
Protosepame
Flemincilin

Garage

Gasoline
Diesel
Insulating tape
Wire
Steel cable
Electrode
Broken cars, motorcycles
Rope
Rubber parts
Machine oil

Forge

Forge chimney
Steel
Scrap
1 part of the iron armor set
Clean water
Coal
Random iron tool
These elements were introduced in v460.