Armored reconnaissance and patrol car BRDM. In russian soldier's argot it calls "Bardak". Needs gasoline. Cross country capacity: high, can be used on water. Arming: Kalashnikov machine gun with ammo 7,62.
Item Weight: 7 tons
Attack: 4500
Protect: 10000
Rest Bonus: 75%
Radiation resist: 80 %
Protection against biting: 95 %
Protection against fractures: 95 %
Protection against bullet wound: 95 %
Protection against acid: 95 %
Light bonus: 50 %
Speed bonus: 500 %
Capacity: 6 tons
Fuel Consumption per 100 km: 30 L. (Diesel)
Shop: 20000 Caps
Only one can be found. Its location is Saint Petersburg (aka Leningrad) at the monument in the middle.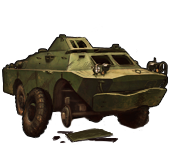 Need:
Pieces of armored car x20 Donetsk
To repair, you will need some Tires, Auto spare parts and the tool kit.
Real Life
Edit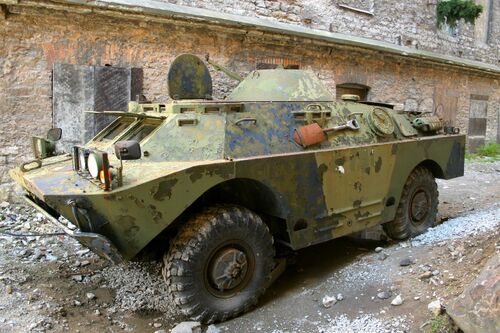 Ad blocker interference detected!
Wikia is a free-to-use site that makes money from advertising. We have a modified experience for viewers using ad blockers

Wikia is not accessible if you've made further modifications. Remove the custom ad blocker rule(s) and the page will load as expected.