Armored reconnaissance and patrol vehicle. Russian soldiers call it a "Bardak". Needs gasoline. Cross country capacity: high, can be used on water. Arming: Kalashnikov machine gun with 7.64 x 54 mm cartridges.
Item Weight: 7 tons
Attack: 4500
Protection: 10000
Rest Bonus: 75%
Protection against radiation: 80%
Protection against biting: 95 %
Protection against fractures: 95 %
Protection against bullet wound: 95 %
Protection against acid: 95 %
Capacity: 6 tons
Fuel Consumption per 100 km: 30L
Location Edit
Found in the city Leningrad, in the center monument.
Purchasable from the shop for 20,000 caps.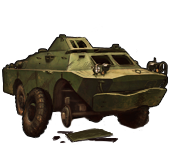 Requirements
Result
Experience
The BRDM-2 is a reference to the original Russian military vehicle of the same name.
It shares the same ammo as the Mosin-Nagant rifle, the SVD, and the AK-74.
The spare parts to the Bardak can only be find in certain lvl 3 bandit camps southeast of the green portion of the map.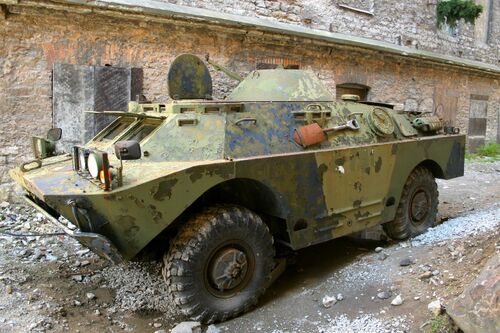 Ad blocker interference detected!
Wikia is a free-to-use site that makes money from advertising. We have a modified experience for viewers using ad blockers

Wikia is not accessible if you've made further modifications. Remove the custom ad blocker rule(s) and the page will load as expected.