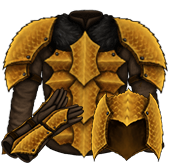 Sanya of Magnitogorsk Survivor Camp wants to craft a Chitin Armor but does not have the proper tools or materials. You will help her get them in exchange for a full set.
She will first ask you to get the tools she needs:

These can be found in Garages and Department stores.
Reward:
This is the last Quest form Sanya
This quest is not repeatable, but you can repair the Chitin Armor or buy a new one for a hundred chitin.
To find the tools bits, have a look at nearby cities.
To get the Chitin, head to Ufa radioactive area and hunt bees.