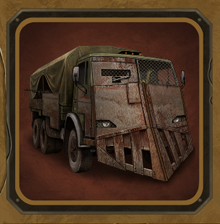 The Gang of "Crosses" are found beyond Omsk
Their camp is Barabinsk
It is suggested to attack with high powered firearms or heavy weapons.
Location
Edit
about 75 Km radius from the camp
about the the location of the first villages along the railway line east and west of the camp.
Injuries
Exhaustion
Bleeding
Fatigue
Loot
1x Human corpse
3-13x Caps
1-2x Assault rifle AK-74
12-25x Cartridges for AK-74
0-1x Respirator
0-1 Canned beef
0-1 Canned Pork
0-1x Jacket
0-1x Pants
0-1x Boots
0-1x Hat
0-1x Pure water
0-1x Vodka
0-1x Sterile bandage
0-1x Matches
Also useful for the Weapons Quest
Ad blocker interference detected!
Wikia is a free-to-use site that makes money from advertising. We have a modified experience for viewers using ad blockers

Wikia is not accessible if you've made further modifications. Remove the custom ad blocker rule(s) and the page will load as expected.