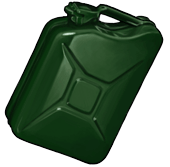 Weight of 1 piece:1 gramme
Gas is one of the most important resources in DayR.
used in Cars, Primus stoves, Syntezhise some medicines and making Torches (new version).
The gas is a limited resource on wasteland, so, Save it like gold. Don't become Mad.

Ways to find:
By defeating some bandits in their camps
In new version use the option "Drain Fuel", it don't requires any tool (only your hands and pride)
Try to use motorcycle(between towns) and bicycle(in towns) as much as possible, as they use the least/no gas. Use bigger vehicles only for transporting "master stash" or heavy quest items(like nuclear reactor parts)
Another smart idea is to travel by sea/river with a raft - it can carry the bicycle and small amount of items for reaching distant islands/neighbouring sea towns
Ad blocker interference detected!
Wikia is a free-to-use site that makes money from advertising. We have a modified experience for viewers using ad blockers

Wikia is not accessible if you've made further modifications. Remove the custom ad blocker rule(s) and the page will load as expected.