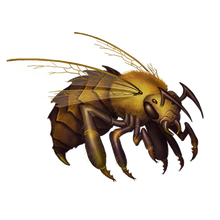 Locations 
 Injuries
Injuries values without any protection :
 Trauma
Carcass
Worker bee carcass x1, weights 50 kg. Will remain fresh for 7 days.
Assuming you have a knife, an axe, and a hacksaw, you can butcher the carcass fo the following loot :
Items used to butcher the carcass will loose durability.