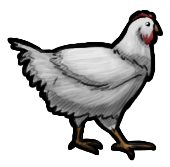 Nikita del campamento de supervivientes de Omsk tiene una idea, quiere hacer un gallinero pero necesita gallinas. Él quiere que vayas a otro campamento de supervivientes que tenga gallinas (Tiumen) y traigas 5 gallinas.
While stealing the hens you might come across new "watchmen" enemies that will give you fatigue, but are otherwise harmless. Defeating them gives no rewards.
Reward :
100 caps
puntos supervivencia
This is the last quest Nikita gives.