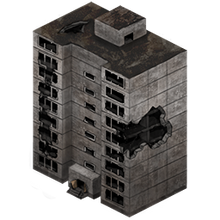 Cities in which it is found:
Possible loot: Edit
Teabags
Sewing kit (!)
Boots
School backpack
Dried fish
Pickles
Tourist backpack (!)
Bicycle spare parts (!)
...
In the early stages of the game:

Look for bicycle spare parts in the beginning - even 1 is a good find - combine it with another broken bike and you have enough to fix a third bike
Look for Tool kit / Chemistry kit / Sewing kit - they are all useful, but hard to find in the beginning

Further in the game, if you lose your backpack to bears, you can look for a new one here
To have better chances of finding rarer items, increase your loot bonus by wearing Flashlight, Binoculars, Flint axe, Axe, Crowbar
Ad blocker interference detected!
Wikia is a free-to-use site that makes money from advertising. We have a modified experience for viewers using ad blockers

Wikia is not accessible if you've made further modifications. Remove the custom ad blocker rule(s) and the page will load as expected.