" Mi-24 Helicopter. Needs diesel fuel. Armament: unguided rockets. "
Details
Best attack in the game, can shoot unguided rockets.
Obtaining
Crafting
Shopping
Mi-24 is available for 75000 in the shop.
Broken Mi-24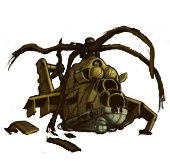 A broken Mi-24 is located in the Airport just outside Moscow (was near Arkhangelsk before V.596 update).
Hints
Helicopter parts can be found in the bandit camp of Kharbarovsk.
To get the parts you may also complete the Family Matters quest.
Online, you need to have at least one missile to get the attack value so you can boost other not just the Mi-24.
Real World
Original Mi-24 helicopter: