Details
Helicopter Mi-24.
Best attack in the game, can shoot unguided rockets.
Obtaining
Crafting
Recipe is unlocked at mechanics skill level 14
Requires the following materials :
Requires the following tools :
Results :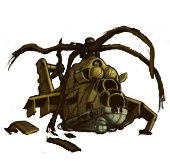 Shopping
Hints
Online, you need to have at least one missile to get the attack value so you can boost other not just the Mi-24.
Real World
original Mi-24 helicopter