Viktor had another crazy idea: building a hydroelectric power plant!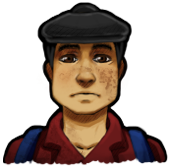 You need to get Engineer Rodkin from Petropavlosk.
After bringing Rodkin to Viktor he needs the following items to build it:
1 Electric Motor (Found in Car Workshop/Garage)
5 Automotive Battery
15 Iron pipe
50 Auto spare parts
100 Wire
200 Insulating Tape
Reward
1 Electric Motor (For Electric Car)
Mechanic book
450 caps
Next: Romance
Ad blocker interference detected!
Wikia is a free-to-use site that makes money from advertising. We have a modified experience for viewers using ad blockers

Wikia is not accessible if you've made further modifications. Remove the custom ad blocker rule(s) and the page will load as expected.