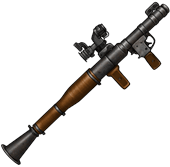 Bazooka!
A rocket-propelled grenade (often abbreviated RPG and colloquially known as a rocket launcher) is a shoulder-fired, anti-tank weapon system that fires rockets equipped with an explosive warhead.
Item remains unbroken for: 300 uses
+ 60 Explosive Skill XP / use in battle
Location Edit
Bandit camps
Some military bases (and ammo)
Useless as is. you need the rockets man!
Can't be crafted or repaired and its ammo, so, use wisely!
Unusable with arm trauma for 2-7 days?
Ad blocker interference detected!
Wikia is a free-to-use site that makes money from advertising. We have a modified experience for viewers using ad blockers

Wikia is not accessible if you've made further modifications. Remove the custom ad blocker rule(s) and the page will load as expected.