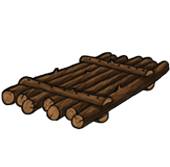 Weight of 1 piece: 46 Kg
Light bonus: 0%
Speed bonus: 300 %
Max. workload: 150 kg
Crafting
Edit
Survival Lvl 2
60x Firewood
40x Nail
Axe
The raft is missed by many players. Its so strong and easy to craft at the beginning. You can use it to cross water and you can use it as sleigh on land.
BUG! There is an bug at the raft item. The max. workload isn't count right and displayed wrong in the characters menue. The Speed Bonus and Max workload will work only when you are on Shoal or Water.
Ad blocker interference detected!
Wikia is a free-to-use site that makes money from advertising. We have a modified experience for viewers using ad blockers

Wikia is not accessible if you've made further modifications. Remove the custom ad blocker rule(s) and the page will load as expected.