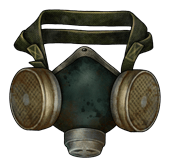 " Respirator significantly increases radiation resistance "
Durability: 7 days
Weight: 300g
Radiation resist: 25%
This is the 2nd strongest mask, better than respiratory mask, but weaker than the gas mask. If you want to use the mask longer, wear it only in radiation areas such as towns or radioactive wasteland.
Obtaining
Looting
Daily rewards
Trivia
The respirator used to findable in the Mine in older versions.