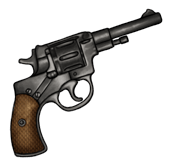 YHEE-HAAW!!!
Power:1100
Weight: 880 grams
Location
Edit
Bandit camps (broken)
Hunting shop (broken)
Assemble
level 5 mechanic
Revolverspare parts x14
The revolver is a weapon for the true western cowboys!
Is NOT the strongest firearm which you can use with one hand. The strongest one-handed weapon is sawn-off shotgun with 1250 power, made from Mosin rifle. (in case of fracture, burn, acid burn, laceration,and so on)
Ad blocker interference detected!
Wikia is a free-to-use site that makes money from advertising. We have a modified experience for viewers using ad blockers

Wikia is not accessible if you've made further modifications. Remove the custom ad blocker rule(s) and the page will load as expected.