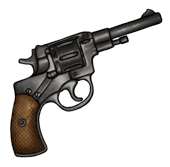 YHEE-HAAW!!!
Power:1100
Weight: 880 grams
Location
Edit
Assemble
level 5 mechanic
Revolverspare parts x14
The revolver is a weapon for the true western cowboys!
Is the strongest firearm with you can use with one hand (in case of fracture, burn, acid burn, laceration,and so on)
Ad blocker interference detected!
Wikia is a free-to-use site that makes money from advertising. We have a modified experience for viewers using ad blockers

Wikia is not accessible if you've made further modifications. Remove the custom ad blocker rule(s) and the page will load as expected.