He is an important part of the later stages of the game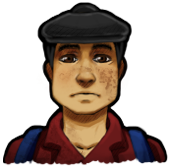 All missions in Petropavlovsk have to be completed in order to recruit the engineer.
You need him for some missions and also to assemble special vehicles
Once you obtain him, you can talk to him or use his repairing skills through the Quest items part of your inventory. Here are his skills:
Repair Armored car "Bardak"

1x Broken armored car
20x Spare parts for armored car
Repair Tank T-72 Ural

Broken tank T-72 Ural x1.
Tank spare parts x15.
Automotive battery x4.
Insulating tape x100.
Machine oil x40 k.
Engineer Rodkin
Repair Helicopter Mi-24

1x Engineer Rodkin
1x Broken helicopter Mi-24
14x Helicopter spare parts
Ad blocker interference detected!
Wikia is a free-to-use site that makes money from advertising. We have a modified experience for viewers using ad blockers

Wikia is not accessible if you've made further modifications. Remove the custom ad blocker rule(s) and the page will load as expected.