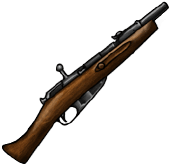 A Mosin-Nagant rifle converted into a sawn-off shotgun. Can be used for one handed shooting, but deals less damage.
Weight: 2.3 kg
Attack: 1250
Durability: ~100 uses
Requires 7.62x54 mm cartridges
+50 firearms skill per use
Assembly Edit
Requirements
Result
Mosin Sawn-off shotgun x1
Experience
Requirements
Mosin-Nagant rifle spare parts x2
Result
Experience
This is the most powerful weapon that can be used with an arm injury.
[lol[Category:Firearm]]