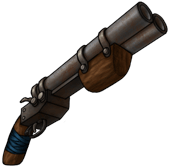 "the necesity is the mother of all inventions"
Weight of 1 piece 2.2 Kg
XP in battle :+40 Firearms skill
uses before broken: 50
Make
Result
Self made double barrelled gun
Experience
+40 Firearms skill when used to attack
one camp of bandits uses this gun (At this point, you must have better weapons)
This is the perfect example of waste of primers
In the game archives, this gun is denominated "Homemade Rifle", but, this thing is one handed.
Ad blocker interference detected!
Wikia is a free-to-use site that makes money from advertising. We have a modified experience for viewers using ad blockers

Wikia is not accessible if you've made further modifications. Remove the custom ad blocker rule(s) and the page will load as expected.