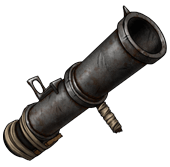 Weight: 2.2 kg
Attack: 2500
Durability: 200 uses.
+100 Explosive Skill XP per use
Requires handmade rockets
Assembly Edit
Requirements Edit
Handmade rocket launcher x1
Experience Edit
(Unrepairable)
It is the strongest handmade weapon, at 2500 base power.
It is unusable with an arm injury.
Ad blocker interference detected!
Wikia is a free-to-use site that makes money from advertising. We have a modified experience for viewers using ad blockers

Wikia is not accessible if you've made further modifications. Remove the custom ad blocker rule(s) and the page will load as expected.