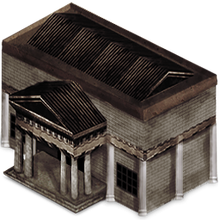 "Someday, in this place, People are enjoying a cultural thing. Nowdays, this place is enjoying the ausence of all things" Cities in which it is found:
Médium size cities have one, almost.
Possible loot:
Furniture
Holiday Clothes (Hat, shirt, pants and boots)
Hat
Jacket
Pants
Cloth
Boots
Red wine
Vodka
Cigarettes
Ad blocker interference detected!
Wikia is a free-to-use site that makes money from advertising. We have a modified experience for viewers using ad blockers

Wikia is not accessible if you've made further modifications. Remove the custom ad blocker rule(s) and the page will load as expected.