Weight 955 Kg
Protect 1000
Light bonus 50%
Sleep bonus 50%
Workload 900 Kg
Fuel consumption 100 Km 10L
Assemble
Edit
Auto spare parts x28
machine oil x5.5k
Automotive battery x1
Insulating tape x25
spark plug x4
Tires x4
Tool Kit
Experience Mechanics +100
Disassemble
Edit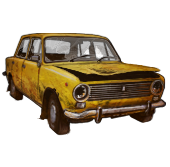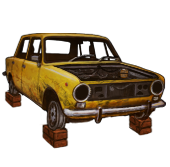 From Broken
Edit
Gasoline x1000-2000
Auto spare parts x3-7
spark plug x0-2
machine oil x50-100
Tires x0-4
Broken automotive battery x0-1
Disassembled VAZ-2101 x1
Experience Mechanics +10
From Complete
Edit
Gasoline
Auto spare parts
spark plug x
machine oil x
Tires x
Automotive battery x
Disassembled VAZ-2101 x1
Experience Mechanics
Scrap Metal x5k - x7.5k
Forging +5
Real Life
Edit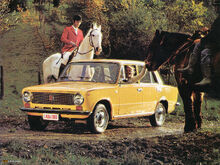 The VAZ-2101, commonly Nicknamed "Zhiguli"  and  "Kopeyka"  (for the smallest coin in the kopeyka), is a compact sedan car produced by AvtoVAZ and introduced in 1970, The company's first product.
Ad blocker interference detected!
Wikia is a free-to-use site that makes money from advertising. We have a modified experience for viewers using ad blockers

Wikia is not accessible if you've made further modifications. Remove the custom ad blocker rule(s) and the page will load as expected.