Data updated for v511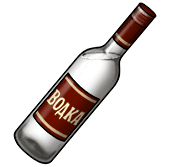 Radiation Reducing Edit
Drink:
Wearout: 10 uses
Weight of 1 piece: 1kg
This item can used as a trade :
Found in:
Edit
Coffee shop, Municipal buildings,Cafe
Used to treat various wounds, as well as for medicine/explosives recipes.
You need five bottles of vodka for one of the quests.
Vodka can be used for distilling to acquire Pure Alcohol.
Five bottles of vodka are needed to convince Yuriy to go to Sverdlowsk.