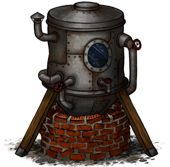 It helps you collect clean water
Description
Edit
This massive tank will draw water from the well beside through pumps and clean it for your convenience.
As other constructions, it can't be moved.
It is required when building Greenhouses. Notice it won't be destroyed nor lose durability in the process.
Some player argue it's a poor idea to use it to get clean water :
Crafting
Edit

Recipe is unlocked at Survival Skill level 4. The marking requires :
Once the marking is done, the construction must be complete to 100% with the appropriate tools.
Disassemble
Edit
It does not require tools of any kind to disassemble. Result :
Get water
Edit
Repeatable x100 times at once. Result :
Get water (Wear and tear +0.2%)
Edit
Repeatable x100 times at once. Result :